MADNESS AT THE CORE OF TIME TOUR 2013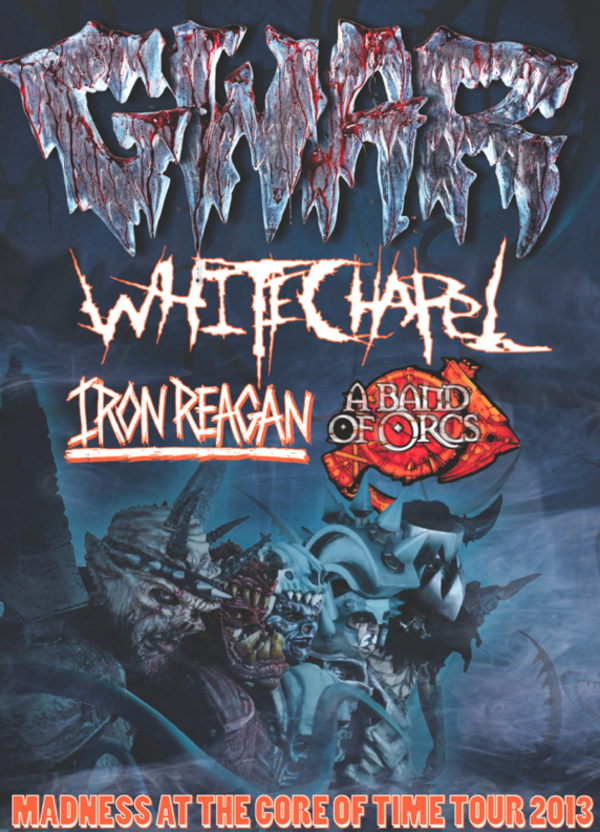 Whitechapel is primed to hit the road with GWAR starting this October.
Masters of medieval metal, the mighty GWAR, are poised to return to the world of man as today they announced the first leg of their massive "Madness at the Core of Time" world tour, in support of their new album, Battle Maximus, which is out September 17th on Metal Blade Records. The tour, which features a completely brand-new show full of slavering creatures and deserving victims, is set to kick off October 2nd in Columbus, Ohio and runs through November 17th in Washington, DC. Tickets go on sale this Friday, August 2nd.
Overlord Oderus Urungus allowed Whitechapel guitarist Alex Wade to comment on the tour:


"We're extremely excited to announce that we will be direct supporting the almighty GWAR this fall. The tour will be hitting some spots we haven't been in a while and we're looking forward to having a blast on tour with them so come out and get GWAR'ed with us!"


Of course Oderus had more to say (when doesn't he?):
"Let me make something perfectly clear. DON'T commit suicide if your city/country/collection of mud-huts isn't on the list. We can't play every city in the world in one tour, as much as we would like to. There will be a whole year or more of shows in support of Battle Maximus, so either be patient, or take a fucking road trip!"
Check out all the dates below:
Oct-02 Columbus, OH @ Newport Music Hall
Oct-03 Milwaukee, WI @ The Rave
Oct-04 Iowa City, IA @ Blue Moose Tap House
Oct-05 Minneapolis, MN @ First Avenue
Oct-06 Winnipeg, MB @ The Garrick Centre
Oct-07 Saskatoon, SK @ Odeon Events Centre
Oct-08 Calgary, AB @ MacEwan Hall Ballroom
Oct-09 Edmonton, AB @ Union Hall
Oct-11 Seattle, WA @ Showbox SODO
Oct-12 Boise, ID @ Knitting Factory Concert House
Oct-13 Spokane, WA @ Knitting Factory Concert House
Oct-14 Vancouver, BC @ Commodore Ballroom
Oct-15 Portland, OR @ Roseland Theater
Oct-16 Chico, CA @ Senator Theatre
Oct-17 Santa Ana, CA @ The Observatory
Oct-18 West Hollywood, CA @ House of Blues
Oct-19 Sacramento, CA @ Ace of Spades
Oct-20 San Francisco, CA @ The Regency Ballroom
Oct-22 Albuquerque, NM @ Sunshine Theater
Oct-24 Houston, TX @ Warehouse Live
Oct-28 Pensacola, FL @ Vinyl Music Hall
Oct-29 New Orleans, LA @ House of Blues
Oct-30 Atlanta, GA @ The Masquerade
Oct-31 Charlotte, NC @ Tremont Music Hall
Nov-01 Asheville, NC @ The Orange Peel
Nov-02 Norfolk, VA @ The NorVa
Nov-04 Ft. Lauderdale, FL @ Revolution
Nov-05 Ybor City, FL @ The Ritz Ybor
Nov-07 Cincinnati, OH @ Bogart's
Nov-08 Detroit, MI @ Harpo's
Nov-09 Joliet, IL @ Mojoes
Nov-10 Grand Rapids, MI @ The Intersection
Nov-12 Toronto, ON @ Phoenix Concert Theatre
Nov-13 Cleveland, OH @ House Of Blues
Nov-14 Clifton Park, NY @ Upstate Concert Hall
Nov-15 Worcester, MA @ The Palladium
Nov-16 Reading, PA @ Reverb
Nov-17 Washington, DC @ 9:30 Club