Full Scion Rock Fest Lineup Announced!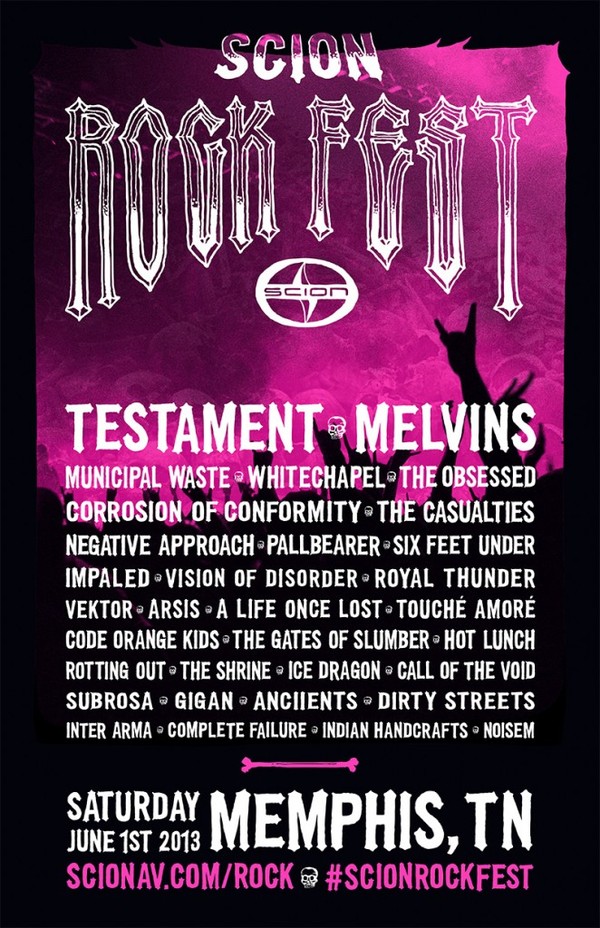 The Scion Rock Fest has announced its full lineup. Scheduled for June 1, 2013, in Memphis, Tennessee, previously announced groups including Melvins, Municipal Waste and Pallbearer are joined by 17 additional acts including co-headliner Testament, plus Corrosion of Conformity, Whitechapel, Negative Approach and many more.

As always, Scion Rock Fest is a free event, but you must RSVP to attend. The RSVP will open on April 10, 2013, at theScion AV website.

Here is the full list of Scion Rock Fest 2013 artists:

Testament
Melvins
Municipal Waste
Whitechapel
The Obsessed
Corrosion of Conformity
The Casualties
Negative Approach
Pallbearer
Six Feet Under
Impaled
Vision of Disorder
Royal Thunder
Vektor
Arsis
A Life Once Lost
Touché Amoré
Code Orange Kids
The Gates of Slumber
Hot Lunch
Rotting Out
The Shrine
Ice Dragon
Call of the Void
Subrosa
Gigan
Anciients
Dirty Streets
Inter Arma
Complete Failure
Indian Handcrafts
Noisem

Also, check out two of the performances from last year's Rock Fest in Tampa, FL at the Ritz Ybor with Down and Saint Vitus. For more videos from Rock Fest 2012, check out the Scion AV YouTube playlist.